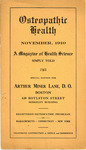 Description
Cover:
Osteopathic Health: NOVEMBER, 1910: A Magazine of Health Science SIMPLY TOLD
SPECIAL EDITION FOR ARTHUR MINER LANE, D. O., BOSTON, 420 BOYLSTON STREET, BERKELEY BUILDING
REGISTERED OSTEOPATHIC PHYSICIAN -IN- MASSACHUSETTS - CONNECTICUT - NEW YORK
TELEPHONE CONNECTION at OFFICE and RESIDENCE
Title page:
OSTEOPATHIC HEALTH: WITH WHICH IS CONSOLIDATED THE OSTEOPATHIC ADVOCATE AND THE RIGHT WAY
Copyright, 1910, by The Osteopathic Publishing Co. All rights reserved.
Vol. XIX NOVEMBER, 1910 No. 5
Articles:
How "Bad" Mechanism in Our "Joints" Makes Sickness; Let the Osteopath Define His Own System; Osteopaths Begin at the Foundations of Health; There are Many Different Sorts of Lesions; Cut Off Nourishment to Any Organ--It Soon Gets "Sick"; Lesions of the Spine Cause Pressures on Nerves; How the Two Nervous Systems Co-operate to Make Health; Any Form of Sickness May Come From "Lesions."
Publisher
The Osteopathic Publishing Company
Keywords
osteopathic medicine, joints, musculoskeletal system, lesions
Recommended Citation
The Osteopathic Publishing Company, "Osteopathic Health, Vol. XIX, No. 5: A Magazine in Health Science Simply Told" (1910). Early Osteopathic Literature. 14.
https://digitalcommons.kansascity.edu/literature/14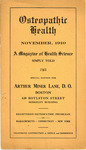 COinS