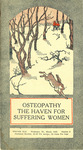 Description
Cover:
OSTEOPATHY: THE HAVEN FOR SUFFERING WOMEN
VOLUME XLX, Waukegan, Ill., March, 1926, Number 3. Published Monthly; $1.00 Per Annum; 10 Cents Per Copy
Title page:
OSTEOPATHIC HEALTH
Copyright, 1926, by The Bunting Publications, Inc., Waukegan, Ill. VOL. XLX Waukegan, Ill. Number 3
Articles:
Osteopathy the Haven for Suffering Women; Constipation in Women; Backache in Women; Headache and Neuralgia; Ovarian Ills; Menstrual Suppression; Profuse Flow and Flooding; Painful Menstruation; The Cause and Cure of Leucorrhea; Curetting the Uterus; Uterine Displacements and Flexions; Prolapsus of Uterus; Bladder Trouble in Women; Piles or Hemorrhoids in Women; Nervousness, Neurasthenia and Brain Fag; Gowns Worn During Treatments; A Comparison of Subjects Taught by Standard Medical Colleges and Osteopathic Colleges; Compare It!
Publisher
The Bunting Publications
Keywords
osteopathic medicine, women's health, medical education
Recommended Citation
Bunting, Henry Stanhope, "Osteopathic Health, Vol. XLX, No. 3: Osteopathy the Haven for Suffering Women" (1926). Early Osteopathic Literature. 9.
https://digitalcommons.kansascity.edu/literature/9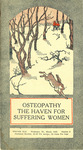 COinS