Preview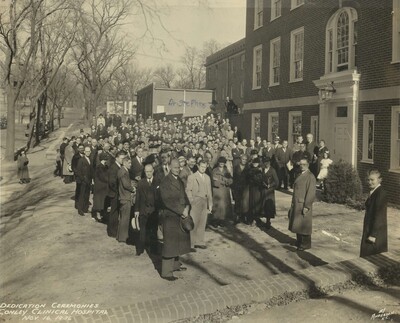 Description
Photo of the dedication of Conley Clinical Hospital at 619/621 Garfield on November 16, 1936. It was named for George J. Conley, MD, DO, one of the founders of the Kansas City College of Osteopathy and Surgery and its first president. Dr. Conley can be seen standing by the front door. To his left is Mamie Johnston, DO, the college's first graduate and longtime professor of obstetrics. The 35-bed hospital's primary purpose was to serve indigent patients while providing a venue for osteopathic clinical training, allowing the students the opportunity to follow cases from their diagnosis in the college clinic through the entire course of treatment.
When the college purchased the larger Wesley Hospital at 11th and Harrison, Conley was converted to a maternity hospital. One of the requirements for graduation was the delivery of three babies which included staying with the mothers from admission to delivery no matter how long that took.
Conley Maternity Hospital closed in September 1972, when KCCOS opened University Hospital, a 324-bed facility across the street.
The photo has a notation in ink that reads "Dr. Stephens" with an arrow pointing to a man who has scaled the front wall. It's possible that man was Frank N. Stephens, DO, a 1934 graduate.
Keywords
osteopathic medicine, medical education, osteopathic hospitals
COinS