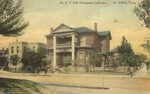 Files
Download
Download Front and Back of Postcard (716 KB)
Description
The postcard above is one of the oldest in the D'Angelo Library Archives. It depicts the A.T. Still Osteopathic Infirmary that opened in 1904 in El Paso, Texas by Ira W. Collins, DO, a new graduate of the American School of Osteopathy, along with Dr. H.T. Still, one of A.T. Still's sons. Collins claimed it was a branch of the A.S.O. Infirmary in Kirksville, Missouri, the first health care facility in a school of osteopathy.
In the early 1900s it was not unusual for osteopathic physicians to convert private homes into hospitals or build additions onto their existing homes. Many of these facilities were smaller and more remote than the nation's allopathic hospitals and were early examples of osteopathy's emphasis on primary care and treating underserved medical populations.
Though Dr. Collins took out numerous ads in the El Paso Herald for his infirmary as late as 1916, it is not known when the A.T. Still Osteopathic Infirmary closed. At any rate, it was not included in the 1924 Edition of History of Osteopathy and Twentieth-Century Medical Practice by E.R. Booth, which included the first comprehensive listing of osteopathic infirmaries and hospitals in the United States.
Publisher
The Albertype Co.
Keywords
Andrew Taylor Still, osteopathic medicine, hospitals
Recommended Citation
A.T. Still Osteopathic Infirmary, "Dr. A.T. Still, Osteopathic Infirmary. EL PASO, Texas" (2023). Postcards. 22.
https://digitalcommons.kansascity.edu/postcards/22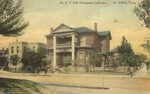 COinS